2019 Gala Dinner & Auction
Saturday 06 April 2019, 04:30pm - 09:00pm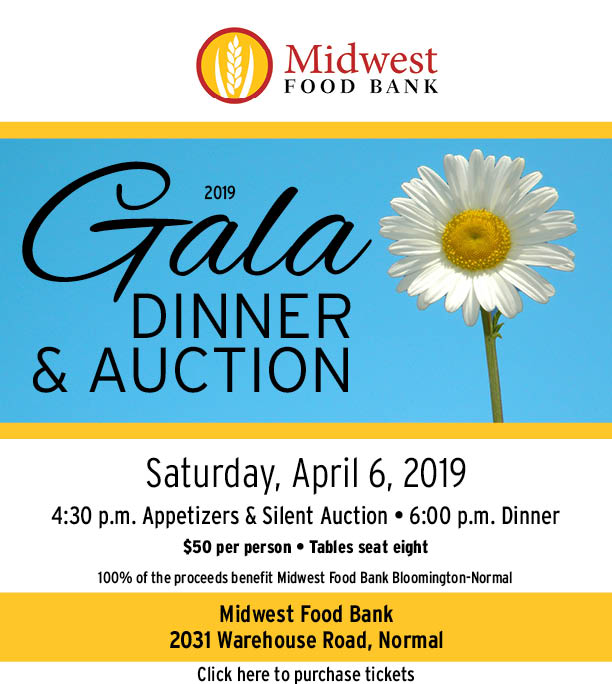 2019 Midwest Food Bank Auction Items:
Stihl Chain Saw
Stihl Weed Whip
Stihl Leaf Blower
Dyson Vacuum
Children's Recliner
Step 2 Happy Home Cottage & Grill playset
Razor Tekno Kick Scooter
Craftsman Ratcheting Combination Wrench Set
Knife Block Set
Step 2 Child's Ball Play Table
Granite Bowl, Kitchen Towels, and Kitchen items
Red Radio Flyer Wagon with boy's books and animals
Girl's chair with summer items
Deck Rocker, Beach bag and lunch tote
Pick up load of Firewood
Pork Chop Supper for 12
Lighted Bocce Ball Set
Bowling for 8 with $60.00 gift card to Monical's and $40.00 gift card to Dairy Queen
4th of July Basket
Kids Summer Toys
LEGO City - Heavy-Duty Rescue Helicopter
Gift Card to Chama Gaucha Brazilian Steakhouse in Downers Grove
14 ton of white rock
14 ton of black dirt
Snow Cone Cart
Watercolor Class for 8-10 women hosted at Common GroundsCafé & Pie Shop in Gridley with Jessica Romersberger and Kyle & Katrina Reinhard. Refreshments provided.
Evening of live music by Doug Martin, Dennis Hodel, & Steve Aeschleman at Doug Martin's shed, Eureka, IL. Will host up to 90 people. Snacks Provided.
2-Viper 10' Kayaks
Power Wheels Wild Thing (Kids 360 ride on electric 3 wheeler)
Live maple Tree
Coleman NXT collapsible grill
2017-2018 Pheasant Forever Wildlife Print "Shelter Belt"
2 sets of 2 tickets to Triumphant Gospel Concert - (2 separate items)
Schleich Farm World Barn/Stable & Horse Figurines
Magformers Log House Building Set
Zwilling/JA Henckles 5 pc Ceraforce Ceramic nonstick cooking pans
Gift card - Bittners Locker