Disaster Relief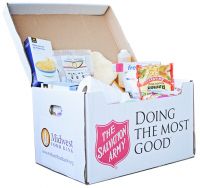 More than 55 semi loads of disaster relief were sent to victims in 2018. This includes hygiene kits, cleaning supplies and family food boxes. Volunteers assemble, pack and drive the boxes to disaster sites and the Salvation Army distributes them to those in need. Family food boxes boxes contain enough shelf-stable food to feed a family of four for 4 to 5 days. As a Salvation Army First Responder, Midwest Food Bank can have supplies on the road within 24 hours of being called.
Disaster Relief sent in 2019:
• Omaha, NE (flooding) - Two loads of cleaning supplies and one load of food (mid-May)
• Davenport, IA (flooding)- One load of food (May 25)
• Jefferson City, MO (tornado) - One load of food (May 30)
• Dayton, OH (tornado) - One load of food and hygiene kits (June 3)
• Jerseyville, IL (flooding) - One load of food (June 25)
• Hardin, IL (flooding) - One load of clean up kits (June 25)
• East Carondelet, IL (flooding) - One load of clean up kits (June 25)
• Harlingen, TX (flooding) - One load of food (July 1)
Midwest Food Bank is blessed to be able to provide a way for people to help support our neighbors. We want to best utilize your time and resources. Here are the ways you can bring help and hope:
1. Pray for those who are displaced and hungry. Their best help will come from the LORD.
2. Donate financially. Midwest Food Bank has many buying partnerships, and with our not-for-profit status, we will maximize your donation, increasing your purchasing power. Funds will be used to purchase food for Disaster Relief boxes and to cover the cost of transporting them. Any funds received that go beyond the needs for specific disasters will assist in future disasters.
To make a donation, text @MFB to 52014, or please use the form below.
Please watch the Facebook page of your local Midwest Food Bank for potential food drives or volunteer opportunities. Thank you for your concern and your heart to help our those who are suffering loss.