Offering nutrition, giving hope

Tender Mercies is an important initiative at Midwest Food Bank that enables nutritious meals to be produced and distributed to those most in need. The Tender Mercies meal packet consists of high-grade rice, pre-cooked pinto beans, fortified chicken seasoning, and a soy protein. The result is delicious food at the cost of 20¢ per meal. Our one pound package feeds about four people with 14 grams of protein, 7 grams of fiber and 1 1/2 gram of fat per serving. For complete nutritional information please click here. To view some recipes using Tender Mercies, click here.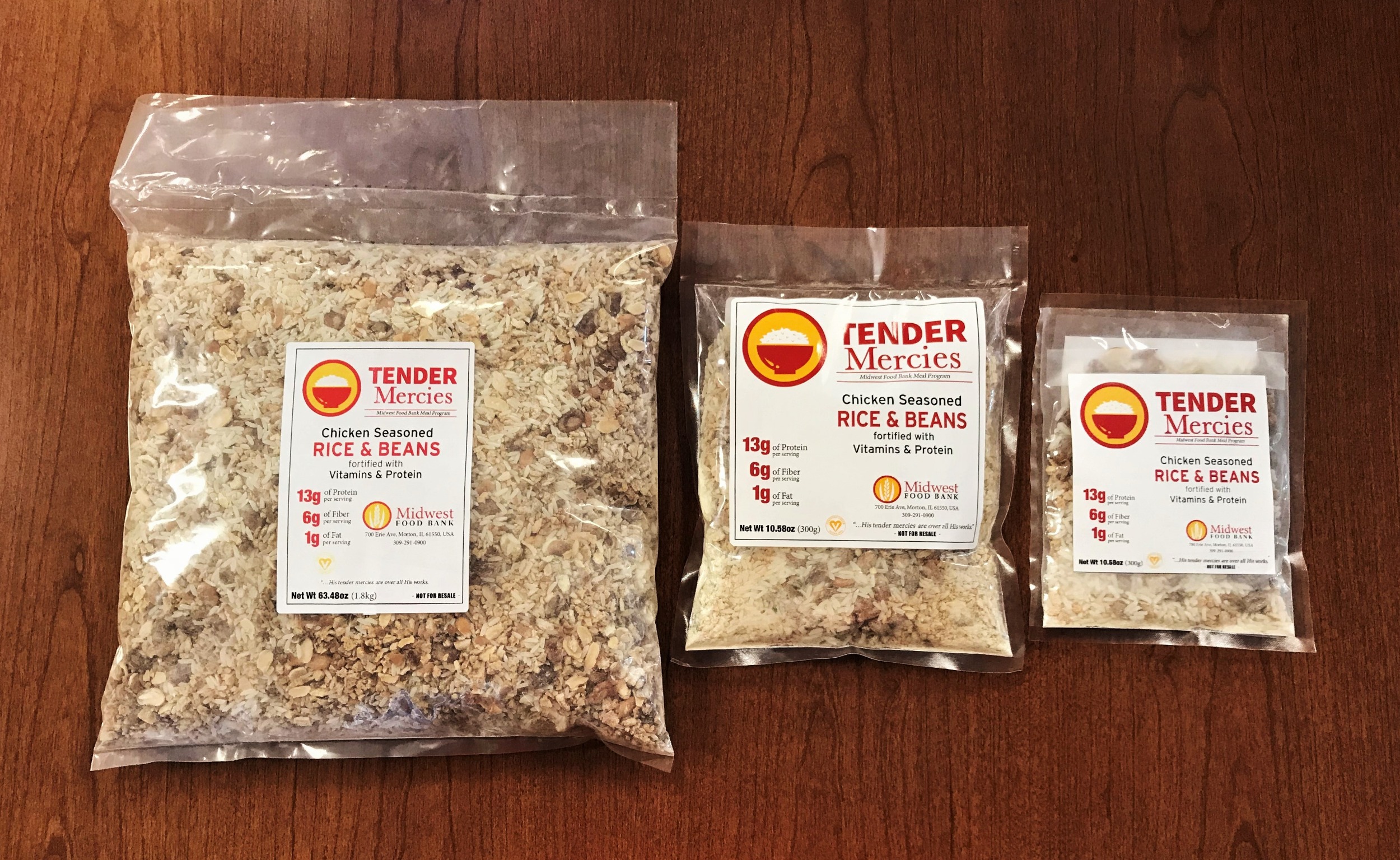 Our three different sizes: Twenty-Four servings (soup kitchens and large group events), Four servings (family size), and Single serve (kids backpack program, single/double person households)
For a blog post on single serve Tender Mercies click here.
Tender Mercies is an essential component of Midwest Food Bank's international effort. In East Africa, Tender Mercies is locally sourced and packaged for distributing. The main focus of Midwest Food Bank's efforts in Haiti is providing Tender Mercies meals to school children. The nature of Tender Mercies allows it to be adapted to different cultures' tastes.
Thanks to sponsorships, it is possible to purchase high-quality ingredients which become meals that are given to local food pantries to distribute to individuals and families. In 2020, Midwest Food Bank distributed 11.64 million tender mercies meals. Please contact us to talk about sponsorships and how you can support this healthy initiative. We also offer packing events in the areas surrounding Midwest Food Bank's Illinois locations for large groups – from 60 to 250 people - that want to sponsor and also pack Tender Mercies.
The Tender Mercies program:
Feeds the hungry–nutritiously. Food bank products are donated or carefully procured based upon market surplus and need. It is not always possible or within our control to ensure that all recipients can receive foods that will promote health and nutrition. The Tender Mercies meal packet fills that void and offers us the opportunity to provide balanced meals and fulfills our mission with excellence.
Offers volunteer opportunities. The Tender Mercies Program is a hands-on activity for all ages and abilities. Volunteers become a part of the Midwest Food Bank family and are given the opportunity to make an immediate impact while gaining a servant's heart. The transformation of ingredients to compassion is a powerful one!
Feeds people everywhere. Tender Mercies meals are currently distributed to food pantries served by Midwest Food Bank and also used internationally through our locations in Haiti and Africa. These meal packets allow us to meet the needs of people in our backyards and around the world.
Fosters a donor heart. Tender Mercies meals can be made possible as sponsorships allow. Please consider sponsoring a pallet of Tender Mercies meals, volunteering to pack meals, or both!
The Tender Mercies program relies on donations/sponsorships. To help in providing these meals to those in need, email our Tender Mercies team. Click here.

Groups can take advantage of our PACK AND PAY program – an opportunity for churches, families or corporate groups to come together and help those in need. Call to schedule your event today or donate here.